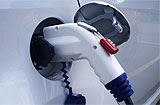 How did Norway acquire a highly developed, easy to use database for charging stations, capable of real-time updates on availability, ready to be adopted by any interested country? 
Back in 2011 the Norwegian EV Association saw the need for an open database where EV drivers easily could find and locate EV chargers. However, to ensure public ownership of the database and to ensure the content was available for everyone, the ownership was given to the state owned agency Enova. Today Enova owns and develops the database while the Norwegian EV Association maintains it (on a tender from Enova). 
NOBIL data is collected from EV-users, charging point operators (CPOs), mobility service providers (MSPs) and other contributors. In 2022 the database underwent major improvements to prepare it for Open Charge Point Interface (OCPI) which many charge points operators use. Today NOBIL can recieve OCPI. So: if you are a CPO active in the Nordics and want to show your chargers in NOBIL. Please contact us at post(at)nobil.no . 
NOBIL is built with non-proprietary software tools, includes detailed information about charging stations and receives and distributes real-time data. Key data, including practical and technical information, accessibility for users, type of connectors and charging capacity, map coordinates, and pictures, are available for the general public. Unfortunately NOBIL does not of today (30.01.2023) provide real time data. This will hopefully be in place before summer 2023. 
The database is continuously updated as new charging stations are built. NOBIL covers the Norwegian charging infrastructure very well and includes around 3,500 charging stations with over 25,000 charging points (as of February 2023). 
NOBIL's role is to gather information and communicate it effectively to third parties. NOBIL is not instrumental for operations (booking and payment), only for the collection and reporting of data. We do not interfere into the business of the operators and owners of the charging stations.
We have made a distinction between the database and the services built on top of it. The Norwegian EV Association and Enova take responsibility for the collection of charging station data, verification and making it available to everyone. Whilst it is up to the market to develop services using charging station data from NOBIL. Services the EV-users utilize in everyday life, whether the information is on web, in mobile apps or inside the navigation of the electric cars.
Data from NOBIL is freely available through an API (application programming interface). Simply register as an API-user and accept the terms of use (Creative Commons). In return you will have the API-key for access sent. You can read more about the API here and download the documentation. 
NOBIL is developed in a cooperation between Enova and The Norwegian EV Association.